Room # 4
: in the floor : spacious (1 large bed + 1 small), wooden floor, bathroom & WC deprived,
45
,000 Ariary (+ 10,000 for the supplementary small bed)
Room # 5 (picture)
: in the floor : less big but with loggia, sea-view, wooden floor, bathroom & WC deprived,
direct acces to the terrace
45
,000 Ariary
Quality bedding. Obsessive neatness (we watch over !). All the rooms are ventilated. Electricity 24 hours / 24. Warm water.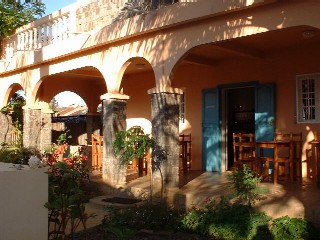 Common parts
: at the first floor : big lounge with bar, satellite TV, library,
big sheltered terrace, big garden.
In the floor : big terrace half sheltered half solarium.
Breakfast
served from 6 am or earlier on inquiry. Formulas from 5,000 to 7,500 Ariary.
Service of restaurant (hosts' table style : today's specials & à la carte menu)
Dishes for less than 6,000 Ariary and possible complete meal for less than 14,000 Ariary.
Well-kept French and exotic traditional kitchen
.
Click here to see other photos of the hotel and the neighbourhood
Transfers and movements
We offer the possibility of excursions and movements in taxi or 4x4 in all the region (maximum 4 passengers). So Airport-Ramena, "Montagne d'Ambre" daytrip, Ramena-"Ankarana", Ramena-"Nosy Be" (jetty), etc....
Rent of vehicles
We can rent on the spot or to Diego for small 4x4, motorcycles, motor scooters, quads, etc.... We can take charge of the booking. Delivery possible at the airport.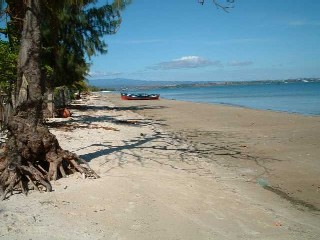 Activities
Snorkelling and fishing in "Mer d'Émeraude".
Big game fishing, harpoon fishing, boar or ducks hunting, etc.
Strolls towards 3 bays (on the Indian Ocean side).
The site of the "Cap d'Ambre" (extreme North).
Escalation on sites all over the world known by the "Montagne des Français" and of "Nosy Hara".
Windsurf or Kite surf on the famous spotlight of the "Baie des Sakalava".
Nature reserves of the "Montagne d'Ambre" and "Ankarana" (tsingy).
The red tsingy.
... And naturally, idleness on the beach!

Payment in local currency, in cash, cheque or credit card. We accept Euro if no other way.
Bookings
You are advised to reserve in high season (in July & August, October to December and school holidays of Indian Ocean). Furthermore, you are asked to re-confirm your arrival hour by telephone (032 02 409 04) 48 hours in advance otherwise the room will be considered as free for the rent at noon.

Given the fragility of the local currency, we do not know if we can maintain these prices. It would be careful to resume contact before your arrival to know the current rates.
Francis GOUT

, manager.

(Update of

February

5th

, 200

7

)
---
Le Guide du Routard
French edition 2006-2007
Page 364
Villa Palm Beach: to the left before the beach. 032-02-409-04 or 032-02-212-77 (mobiles) • palmbeach@netcourrier.com Night rate from 7 to 10 € for 2. Six rooms in everything. Our "blow of heart" in Ramena. Recent villa, of pink colour, well fitted out, in 5 meters of the beach. Big neatness, beautiful parquets and sober and fresh decoration. The least expensive rooms are at the first floor. Bathroom and and w.-c. outbuildings for quite safe for 2 rooms which possess an internal shower. Rather friendly atmosphere around the small lounge (music, satellite TV) or on the terrace in the 1st, where from we have a magnificent sight. Services of laundry, international telephone, a small shop, transfers to Diego, some books at arrangement (and even the "Routard"!). Also a restaurant with good French specialities (steaklet of duck, chicken basquaise, cheeses).
---
Lonely Planet
4th French edition - April, 2005
Page 263
Villa Palm Beach (Ø 032 02 409 04; 032 02 212 77; palmbeach@netcourrier.com; without/with bathroom 20,000 - 26,000 / 24,000 - 32,000 A). Unquestionably the best choice of Ramena, the Villa Palm Beach proposes fresh rooms and impeccable neatness. This welcoming address offers a service of laundry and transfer until Diégo.
---
Le Petit Futé
French edition 2006-2007
Page 453
Villa Palm Beach Ø 032 02 212 77 or 032 02 409 04. E-mail: Palmbeach@netcourrier.com. Six rooms of 26,000 Ar (common sanitary facilities) to 40,000 Ar (private bathroom, common toilets). Two only enjoy a private bathroom. The price thus depends on these conveniences, but also on their place (at the first floor or at the floor). Some are more spacious than other, certain have a sea-view... Friendly and warm atmosphere. Small shop in the entrance where we can find one or two surprises. Good reception. Transfers assured from the airport. Rent 4x4.
---
Lonely Planet
5th English edition - August, 2004
Villa Palm Beach Ø 032 02 409 04 palmbeach@netcourrier.com d. without/with bathroom Fmg 80,000 / 120,000. A clean and homely little guesthouse just down the hill from Badamera. Wooden-floored rooms have sea views, and a good selection of books and magazines to read on the beach.
---

PO Box 425 - Diego-Suarez - Madagascar - (+261) 32 02 409 04